About Us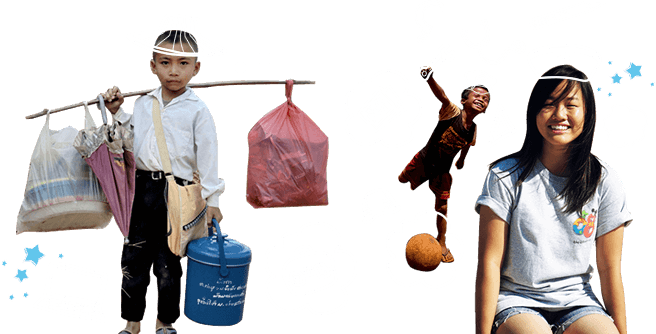 Raising Good Children for Thailand's Future
Children are the nation's future. If we equip our children with good education, morals, and ethics, a brighter future for Thailand will be more than just a hope.
Currently throughout the country, we have over three million disadvantaged children–poor children, neglected children, and ethnic minority children. Additionally, many youth between 12 to 17 years of age lack continuous educational opportunities. Approximately 800,000 youth do not have a chance to go to school after finishing their compulsory elementary education due to a lack of funding. Many youth have to quit school to work to support themselves and their families. Forced into the labor market at a young age, these children do not get the education or opportunities needed to improve themselves and become responsible adults, which is the most important force to move our society forward.
Nothing will be more important for building a strong foundation for these children than providing a quality education, as well as teaching them morals and ethics. With these vital components of a proper childhood, they can reach their highest potential in life and become the responsible adults we need to build a greater future for our country. For the past twenty years the Yuvabadhana Foundation has given needy children the opportunity to receive an education, as well as learn morals and ethics. We work with other organizations with similar a vision to help support and build children into solid citizens.
You can help give a brighter future for these children today just by joining with the Yuvabadhana Foundation through one of our various programs
Educational scholarships
This program gives children the opportunity to continue their education after finishing their compulsory elementary education. The Yuvabadhana Foundation not only provides scholarships to children, but follows up with each recipient to ensure that they continue to be morally and ethically grounded as well. Your money will provide this opportunity to more children.
Youth Development
This program works to build self-esteem in children by finding and developing individual talents that will last as the child grows into adults. Each year the Yuvabadhana Foundation has arranged the Yuvabadhana Art Contest and the Yuvabadhana Literature Contest. These programs help improve children's artistic and literary skills. We believe that art and literature are vital tools for refining and teaching morals and ethics to children. Your financial support is the force that helps push these children to reach their full potential.
Encouraging Community Engagement
Apart from the financial assets needed to help disadvantaged children, the engagement of communities, using their skills, knowledge, time and "volunteer spirit", is no less of a vital asset in our efforts. Creating opportunities for communities to support scholarship students to complete their education is collaboratively managed by the foundation and its partners – Volunteer Spirit Network and Volunteer Service Overseas – started in late 2016
In-School Morality Development Project
In-School Morality Development Project introduces moral school development processes directly affecting the success of schools to adjust students' behaviors due to the expected morals and outcomes of the schools caused by the operation of vocal teachers and students altogether with the School Board of Management. As a result, students would learn and realize on how good they are, as well as chase the opportunity to enhance good habits and behaviors for becoming well-behaved citizens and the future of Thailand.
With the cooperation and support of everyone, the Yuvabadhana Foundation believes the children it helps will have a good future ahead and will grow to be pillars of our society
Board of Committee
Chairman of Yuvabadhana Foundation
Chairman of Khon Thai Foundation and Thailand Collaboration of Change (TCFE)
Chairman of Enlive Foundation
Chairman of Anti – Corruption Organization of Thaialnd
Committee of Cheevamitr Social Enterprise