Scholarship donation through Carenation, wreath for charity
Carenation, a producer of recycled paper wreaths for society, has contributed to a scholarship fund for children who lack opportunities by giving a portion of the donation from those who ordered a wreath and chose to donate to the Yuvabadhana Foundation. In addition to delivering encouragement, we will also join in making merit to provide educational opportunities as well.
Every Baht and Satang is Valuable.
We would like to thank everyone for giving a future for our children.
Former Scholarship Student
The Yuvabadhana scholarship  helped to lighten the burden on my family a lot and helped me to pursue my dreams, from what I thought I wouldn't have had the same opportunity as other friends.
–Ployphan –
scholarship student year 2016, Mae Hong Son province
Former Scholarship Student
Through the 6 years of receiving the scholarship, I would like to thank you for the scholarship and the opportunity that the Foundation gave me that day. Including the care and attention by calling to talk to give me encouragement and positive thoughts to this day.
– Buachompoo–
former scholarship year 2013, Chonburi province
School Year 2021
Yuvabadhana Foundation.
has provided a total of
74.0 million baht
for scholarships.
Thanks to your support,
scholarships have been given to
17,000 less fortunate children.
Of those, 9,132
 have graduated
And 6,574
are under the care of the foundation.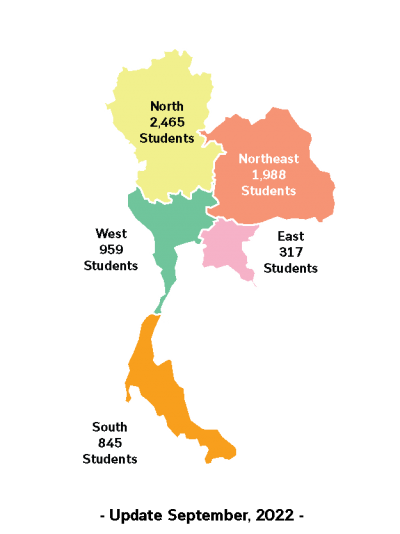 การเข้าถึงการศึกษา
ผลลัพท์ที่เกิดขึ้น
With your support,
2022 will be a bright year for all the children.
(เงินบริจาคสามารถนำไปลดหย่อนภาษีได้)
เงินบริจาค 100% ของคุณ มอบเป็นทุนการศึกษาให้นักเรียนที่ขาดโอกาส